In the UK, cosmetic procedures are becoming more and more popular. As people invest in their appearance more, the need for smoother skins, fewer wrinkles, whiter teeth, and fuller lips rise. These days, people view cosmetic procedures such as lip fillers as they get a haircut or a tattoo.
If you are considering getting lip fillers, what to expect and how long lip fillers last, this article covers all the details you need to know regarding lip filler timeline, lip filler treatment, lip filler swelling and more.
How Long Does Lip Filler Swelling Last?
Before having lip filler treatment, you must know what to expect, including how long does swelling last after lip filler. Swollen lips after injections are entirely typical, and lip filler swelling will start to reduce around 14 days after having the fillers injected.
Knowing what to expect after lip fillers, normal lip bruising after fillers, and the lip filler healing timeline will enable you to make sure your lips are healing post-treatment. You can enjoy the results of your procedure without worrying.
Lip Filler Swelling Process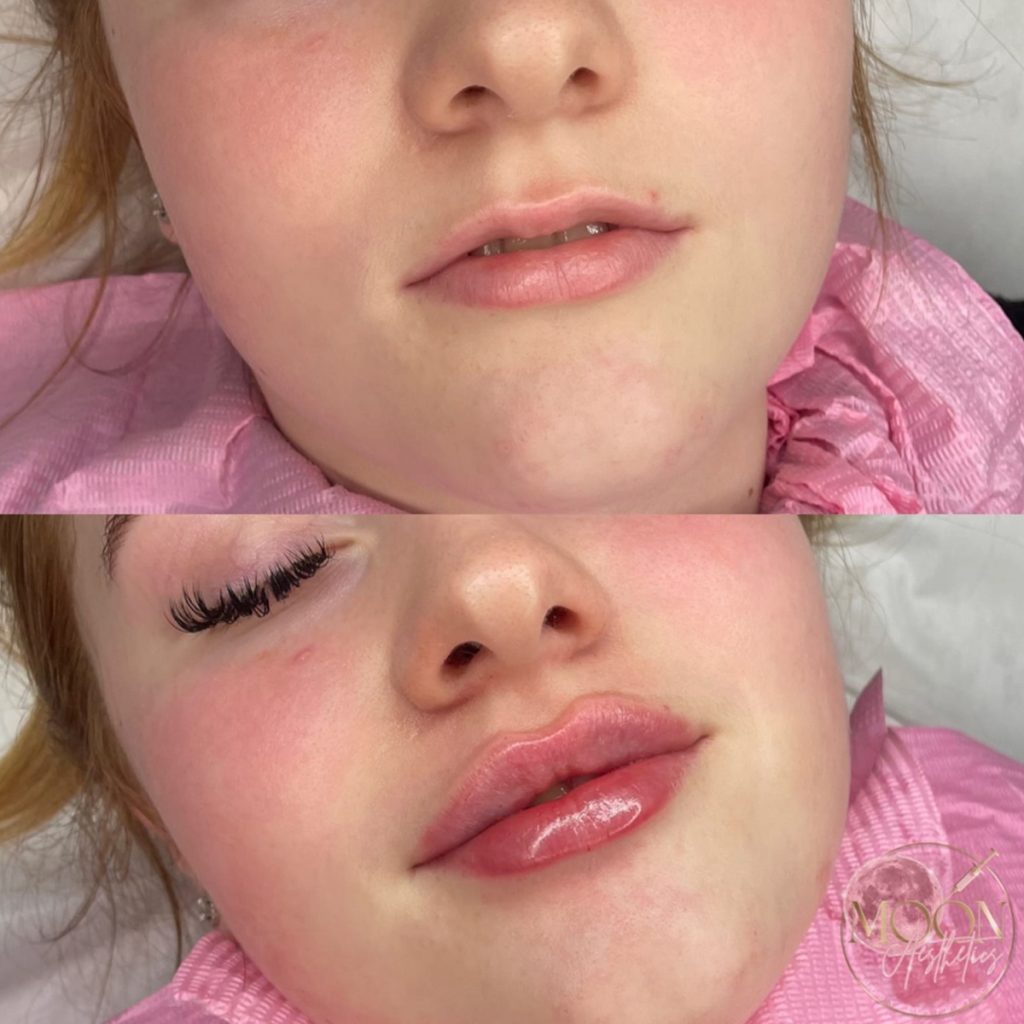 Want to know more about the 1 week lip filler swelling stages? Our guide will give you more information about what you can expect during the lip filler swelling stages, the lip filler healing timeline, and when you can expect the swollen lips after injections to subside.
Original lips – my lips are so thin.
Before your procedure, it can be helpful to take a picture of your lips so you can see the difference and monitor any swelling for lip filler day by day progress. Your lips are likely to be thin and flat instead of plump and full before the procedure.
Day 1 – A little swollen, but I love them.
You will notice the effects of the lip filler immediately. Swelling will be instant, and you will notice the impact of the swelling quickly. Aside from the swelling, you will be able to see the shape of our new lips as the lip filler settles. It might be that you notice your lips are uneven and not symmetrical. Again, this is entirely normal, and the lip filler will need time to settle once the injection swelling has reduced in the coming days.
Day 2 – They are so swollen. What have I done?
You might find yourself wondering what you have done after seeing the extent of lip fillers swollen the next day. Lip filler swelling the day can be more pronounced. Your top lip will be more pronounced than your bottom lip and will be where most of the swelling is noticeable. It isn't permanent, though.

If you feel pain or discomfort from the next day's swelling, you can take some pain relief but avoid any medication that thins the blood as this can result in increased swelling or bruising.
Lip bruising after injections might be more noticeable today due to the increased swelling around the injection site. Use ice after lip filler treatments to help reduce bruising and swelling in the area.
Your pronounced pout may make it hard to eat or drink depending on the level of swelling you are experiencing, but you must stay hydrated.
Day 3-5 – They feel it lumpy is that normal?
The first 48 hours after lip filler injections will bring the most swelling and pain or discomfort. But by day three, you will start to notice the swelling will be starting to go down. It will be easier to eat and drink once the swelling reduces.
One thing you may notice is your lips feel lumpy. This is down to the fillers settling into your lips and the swelling and bruising healing. This can persist for the next few days and is something you can expect to happen as part of the lip filler swelling stages.
You should notice your top lip isn't as pronounced as they start to settle down, and while your lips might not be fully symmetrical, they should appear to form their new shape well.
Day 7 – I am obsessed with my new lips!
By the 1 week lip filler swelling stages, the fillers will be more prominent over the swelling, and you will be obsessed with your lips. As the filler settles, you might experience changes still, but for the most part, you can fully marvel at your shape and enjoy the benefits of your lip fillers.
Some swelling may persist, which means your lips may appear to be losing fullness as it subsides, but any change now will be minimal. This is when your lips will look their best.
Day 10 – I need more. The swelling has all gone.
By day 10, all swelling should be gone leaving you to ponder getting more treatment to regain that luscious plump look of fuller lips. If you are considering rebooking another appointment, you should know that lip fillers can last between 6-8 months, and it is recommended you do not rush treatments.
Chances are, the changes you are noticing is the elimination of bruising and swelling and your lips, while not as full as with swelling, will still be holding the fillers and will be fuller than prior to having your fillers.
If you want to experience the fullness of the post-procedure lips, you can rebook for treatment every 3-6 months. At this time, you can use makeup to help your lips appear fuller and stay hydrated by drinking plenty of water, so your lips remain soft and smooth in between treatments.
Lip Filler Swelling Before and After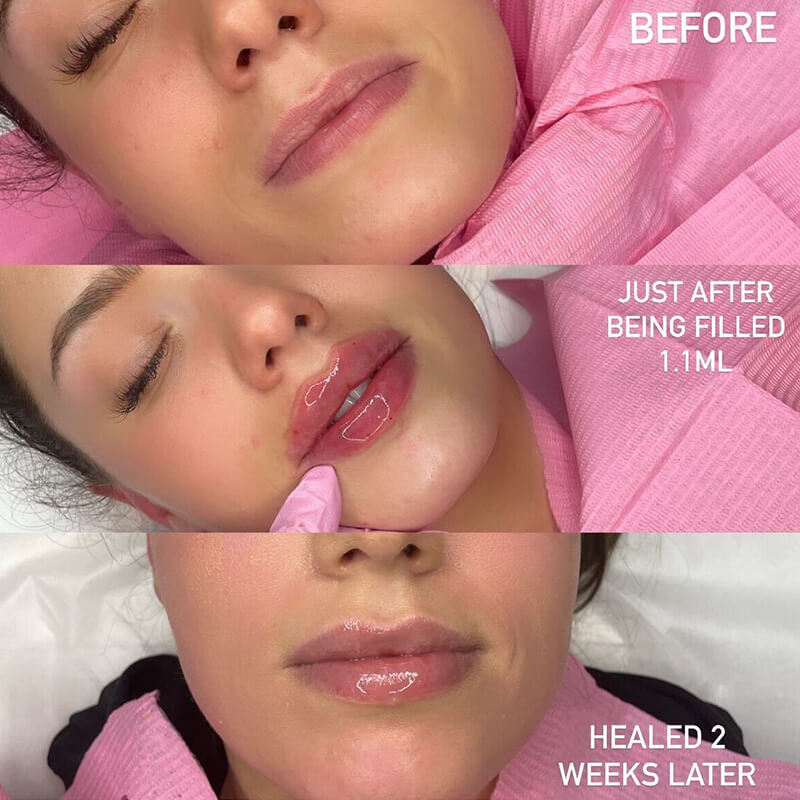 What difference does lip filler make? You can see the difference with IP fillers immediately after, and the look and feel of lip fillers will change during the healing process. The results of lip fillers will depend on the person and what your lips look like without fillers.
This popular non-invasive injectable is used for collagen stimulation and to add volume to specific areas of the face and body. Even though this method is safe and common, injecting fillers may result in swelling. Following the use of soft tissue fillers, swelling and inflammation can occur.
Check out these before and after pictures to see what you can expect after lip fillers.
How To Make Swelling Go Down After Lip Filler
Swelling that occurs after receiving lip filler injections can be easily controlled by applying ice to the affected area. Gentle massage the lips with an ice pack that has been wrapped in a towel or a cold compress. To avoid aggravating the discomfort, use a soft cloth and avoid using anything that could stick to the lips, making it worse.
If you are experiencing pain and swollen lips after injections, you can take over the counter pain relief to help you manage pain levels. However, ice after lip fillers is usually an effective treatment for reducing lip filler swelling.
It is also recommended that you drink plenty of water and eat well after the procedure and avoid any activities that can cause pain or discomfort in your lips.
How To Hide Lip Injection Swelling
Lip injection swelling is entirely normal and should be expected when it comes to lip filler recovery. You should also expect normal bruising after lip fillers at the injection sites as the filler settles into your lips. However, if you want to disguise the fact your lips are swollen or cover lip bruising after fillers, there are some options to try.
Use the right shade of lipstick to cover bruising and lips
Use arnica and bromelain before and after the procedure
Use ice to reduce swelling and limit bruising
Avoid strenuous exercise
Avoid blood-thinning medications
In most cases, lip filler swelling reduces within one week to 10 days. However, if you experience any pain, swelling or bruising after a few weeks, it is best to consult your doctor for further advice and treatments if required. Your aesthetician can discuss with you any potential side effects and symptoms to look out for in the lip filler healing timeline.
Do Lips Feel Different After Fillers?
It is reasonable to expect your lips to feel different after lip fillers. You should expect to experience smoother, fuller, and softer lips after lip filler healing with well done lip injections.
You should not experience any additional creases on or around your lips, nor should lip injections cause lumps and bumps under the skin on your lips. If you have any concerns during the healing process, you should consult your aesthetician to ensure everything is normal and there are no issues.
Remember, over time; the lip filler results will fade and keep your lips looking full and plump. You will need regular treatments to retain the aesthetic you experienced after having lip fillers.
Contact Moon for Lip Fillers
To find out more information about what to expect with lip fillers and the cost of treatments available, contact us at Moon Aesthetics and take advantage of our cutting edge technology and expert care and attention when it comes to lip fillers, micro-needling along with treatments for fine lines, wrinkles and a variety of skin conditions.